REJECTION
is normally a psychologically
PAINFUL
experience, a kind of experience no normal human being wants to experience for himself because of perceived unfavorable effects to its passive subject. From a simple unexpected and embarrassing snub to an unrequited love, the degree of emotional
PAIN
varies accordingly depending on the circumstances and the parties involved.
But for some the pain of rejection is too much to handle with
LETHALLY CATASTROPHIC
effects. Oftentimes these
TRAUMATIC
emotional pains which comes from rejection has a LASTING pain that haunts the person FOR LIFE driving them to think, do and not to do things intended to inflict retributive pain towards a more likely innocent victim(s).
NOTHING CAN BE MORE PAINFUL THAN THE REJECTION OF YOUR OWN FATHER
. A father that is supposed to be the source of primary moral support and love is instead the source of his own child's
MENTAL ANGUISH
,
EXTREME PSYCHOLOGICAL TORTURE
and
UNBEARABLE SUFFERING
at a very tender age, generically ranging from
CHILD ABUSE
,
INCESTUOUS RAPE
,
BEATINGS
and
NEGLECT
to
DELIBERATELY INDUCED HUNGER
and ultimately
KILLING
the child by various means, some children are
KILLED
through
STABBING
,
DROWNING
,
POISONING
,
STRANGULATION
, etc.
Take for example the case of Mariannet Amper, a 12 year old girl who allegedly committed
SUICIDE
because of extreme poverty as initially reported by some UNRELIABLE Philippine media capitalizing on sensationalism rather than verifiability as
IRRESPONSIBLE
as the report made by GMANEWS.TV whose report goes like this;
The tragic life of Mariannet Amper, or why children commit suicide

11/10/2007 09:15 PM
By CLAIRE SY DELFIN
She would have completed her elementary school, but the 12-year-old girl grew so dejected that she hanged herself, and her dreams of finishing school died with her. Mariannet Amper's suicide last week in Davao City hogged headlines and sparked off protest rallies against the government.
Poverty has been blamed on her decision to end her life
. Under her pillow was a letter she wrote addressed to television program, "Wish Ko Lang," which grants viewers' wishes. On it, Mariannet wished for a new pair of shoes, a bag, a bicycle and better-paying jobs for her parents. She also left a diary, narrating her family's difficulties surviving a life penniless in a little hut that has neither electricity nor running water. She also wrote that she had not attended school for a month for lack of transportation fare. "I suspect she did it because of our situation," her father Isabelo, a carpenter, told reporters in the vernacular.But psychiatrists disputes that poverty cannot be the only factor to push someone, especially a child, to commit suicide. "It is unfair to simply look at suicide in that angle (poverty)," said psychiatrist Dr. Ma. Luz Casimiro-Querubin. After all, many poor Filipinos do not resort to killing themselves despite their hopeless condition. And there have been cases of children born to well-to-do families who have committed or attempted suicide. Suicide is not an instant decision, she said. It is borne out of a suicidal tendency that the child develops within himself. Suicidal tendency, in turn, is a psychosocial and multi-factorial behavior that is developed through time when the child faces long-standing problems within himself and in his immediate environment. Soon, the child would manifest episodes of depression, hopelessness and low self-esteem. Although poverty is a risk factor, it can hardly stand-alone. It is the lack or absence of support system that compounds the child's problem, leading her to lose hope and meaning in life, and eventually commit suicide. "The fact that Mariannet has six more siblings in a family with very limited resources indicates that some of them, including her, may be marginalized," Casimiro-Querubin says. Hence, even if she was born to a rich family, but was wanting of proper attention from significant people around her, she is prone to develop suicidal tendencies. Lack of dataExperts, however, find it difficult to conduct research on suicide for any age group in the country because the Philippines has no central registry for recording suicide and suicidal attempts. Data gathering is even made more difficult by religious and social biases.The latest data available is from the World Health Organization, which was released in 1993. It says that suicide rates per hundred thousand population in the Philippines are 2.5 for males and 1.7 for females. Casimiro-Querubin agrees that suicide is rare in the Philippines, but warns that it is happening and is increasing especially with the rising incidence of parents going abroad for employment, leaving behind children with distorted support system. "It has a high psychosocial cost to children," she said.Child psychiatrist Dr. Agnes Bueno said that in her practice, the youngest in her files of patients who attempted suicide seriously is an eight-year-old boy. A child below five years, she says, has no concept of death as permanent and meaningful. "Therefore, he is incapable of actualizing suicide although accident-proneness could be an equivalent in their age group," Bueno said.She shares in her article entitled, "When a Child Wants to Die,' published in Medical Observer magazine in April 2001 a background inventory of attempted suicide among her patients. Her inventory shows the following:- Ten out of 10 belong to Class A economic status- Nine out of 10 are Catholics- Eight out of 10 are males- Eight out of 10 are due to relationships (family and romance)- Two out of 10 are due to clinical depression- Two out of 10 are in an incestuous relationship with their fathers- Ten out of 10 occurred in the home- Ten out of 10 are students- Five out of 10 are positive for family history of alcoholism- Two out of 10 are positive for family history of suicide- Three out of 10 have friends who also attempted suicideShe advises parents to immediately detect sudden changes in the child's behavior as such are symptomatic of a suicidal tendency. Changes in the child's academic performance, mood swings and instances when a child hurts another child or takes away things that do not belong to him are signs that parents should watch out for. If any of these happens, parents must open their lines of communication to the child and be more sensitive with his needs.Suicide is instinctLora (not her real name) recounts occasions during her childhood when she would pound her head on a concrete wall each time she would feel sad. At one time, she attempted to hang herself. To her recollection, her suicidal tendency started when she was nine or 10 years old. And this has remained until today that she is already in her late 20s, is married and has a child."It's instinct. Suicide is always an option whenever I feel depressed," she says. "It's just right there waiting to happen."Lora says it doesn't even need a major setback for her to entertain thoughts on suicide. A simple spat with her husband, or getting scolded by her mother when she was a child is enough. She considers her suicidal tendencies a dilemma, especially since she can't even identify its source. All she remembers is that she hated her father when she was a child. She refuses to elaborate. Taking responsibilityBut in the case of Mariannet, the real reason for her suicide seems shoved away as the government has already taken responsibility for it. "We take responsibility for everything. Because we are leaders of the government, we need to ensure that services are there," Health Secretary Francisco Duque III said. President Gloria Macapagal Arroyo immediately ordered the Department of Education (DepEd) to fast track the expansion of the alternative distance-learning program that allows a child to study and finish schooling without having to go to a formal school.This way, Mariannet could have continued schooling without having to worry over transportation fare. DepEd Undersecretary Vilma Labrador has also instructed teachers to check on their students and conduct home visits after a child has gone absent for three days without prior notice. Fight vs povertyEven prior to Mariannet's death, the President has ordered the Department of Budget and Management to release one billion pesos to fund hunger mitigation programs. She has also told a business forum that her economic efforts have started to bear fruit. "The common people are now feeling the benefits of a growing economy."This was instantly met with protests by left-wing organizations and anti-poverty groups, insisting that the economic growth fails to trickle down to the poor. A recent Social Weather Stations survey shows that about nine million Filipino families regarded themselves as poor. Many of them also said that they experienced "severe hunger" in the last three months. Psychiatrists, however, claimed that while there is a need to uplift the financial capacity of 87 million Filipinos, doing so cannot and will not guarantee an end to childhood suicide. They remind Filipinos that the core of problems in children takes its roots, not in their economic status, but in their family system. At the end of the day, it is back to basics – the family. - GMANews.TV
(SOURCE:
http://www.gmanews.tv/story/68149/The-tragic-life-of-Mariannet-Amper-or-why-children-commit-suicide
)
Later it was found by police authorities that the girl died NOT because she killed herself because of extreme poverty but because
SHE WAS RAPED
and eventually
KILLED
or LED TO
DIE
by her own father FALSIFYING initial media reports made by UNSCRUPOLOUS and
MONEY-GREEDY
media outfits in the Philippines that the poor girl died because she committed suicide out of extreme poverty. Later police investigations revealed
FOULPLAY
in the poor girl's cause of
DEATH
with her own father as a prime suspect.
Police confirms Mariannet was raped; committed suicide

Contributed by Walter I. Balane/MindaNewsSaturday, 17 November 2007 00:27
DAVAO CITY (MindaNews/16 November) - Police here confirmed that 12-year old Mariannet Amper, who HANGED HERSELF at home on November 2, was a victim of RAPE. Supt. Matthew Baccay, chief of the Talomo Police Station, told reporters here Friday that the final autopsy report points to a case of rape, and the perpetrator could face the mandatory charge of statutory rape. 12 year old Mariannet Amper, who hanged herself at home on November 2, was a victim of rape."The penetration injury is very telling," he said.Under the Revised Penal Code, statutory rape is committed by having carnal knowledge of a woman under twelve years of age. The law also provides that penetration, no matter how slight, or mere introduction of the male organ into the labia of the pudendum constitutes carnal knowledge. Dr. Tomas Dimaandal, city medico-legal officer, who performed the autopsy on the exhumed remains of Mariannet Thursday, said TWO LACERATIONS WERE FOUND IN THE GIRL'S PRIVATE PART, one located at the left side, described as "shallow healed" and the other at the right side, described as "deep healed."He said he suspected that a hard object, including a male sex organ, could have caused the laceration but he intimated that the girl "could have been raped. Baccay said he would rule out any other hard objects "other than a male sexual organ. Although the two lacerations evident at both sides of tissue have healed, Baccay said "it was probable that she was raped at least a week before she committed suicide. He said it was also probable that she might have been MOLESTED earlier. Although the girl was a victim of rape, Baccay said police investigation would still hold on to its theory that the girl had committed suicide. "Westill hold on the angle that it is suicide as there was no struggle observed on the part of Mariannet," he told reporters.Aside from her entries in her school diary and her letter to the television program, Wish Ko Lang of GMA 7, Baccay also showed a page from the girl's notebook on which was sketched a girl inside what looked like a coffin. Thefinal autopsy result said the "cause of death is due to asphyxia by ligature. Dimaantal explained Mariannet "could not breathe because of strangulation. "But it is not yet absolute. Foul play is still a possibility," Baccay said as he announced there would be a long investigation ahead. He said they have expanded their investigation, that could extend to the Ampers relatives, neighbors and Mariannet's religion teacher, adviser, and school principal. Mariannet's father, Isabelo Sr., and her brothers Isabelo Jr., 20, and Julieto, 18 were questioned by police during a formal inquiry today (Friday). Baccay said part of procedure was for them to take a drug test within the day. Mariannet was found hanging by her younger brother, Reynald, 10.Baccay meantime, also also ruled out newsreports that the girl committed suicide because of abject poverty. "It was a melodramatic portrayal of the media," he said."Dili sila isang kahig-isang tuka," (They are not in subsistence living). He said the Ampers have the necessities although they cannot afford the luxuries in life. "Their parents have cellular phones, they have electricity, they have atelevision set," he said. That they are poor could have contributed to the reasons why she committed suicide, he said.But he added IT WAS WRONG TO CONCLUDE that she hanged herself because of poverty," he said. (with report from Walter I. Balane / MindaNews)
Duterte orders probe on Mariannet's pa and brods

Contributed by Walter I. Balane/MindaNewsFriday, 16 November 2007 16:22
DAVAO CITY (MindaNews/16 November) -- Mayor Duterte ordered the police on Thursday night to start questioning" the father and brothers of 12-year old Mariannet Amper, following autopsy results indicatingshe might have been sexually abused.Dr. Tomas Dimaandal, who performed the autopsy on the exhumed remains of Mariannet Thursday, announced theresults in a press conference at the Grand Men Seng Hotel late Thursday afternoon.Dimaandal said they found twowounds in the girl's private part, one located at the left side, described as "shallow healed" and the other at the right side,described as "deep healed."He said she died of "asphyxia by ligature." She could no longer breathebecause of the strangulation.Mariannet was earlier reported to have been driven to suicide due to her family'spoverty.P/Supt. Matthew Baccay, Talomo police chief, told MindaNews Mariannet died of suicide but the indications ofsexual abuse could have prompted Mariannet to hang herself.The Amper family, however, denied involvement in thealleged foul play.Baccay led a police team to the Ampers' residence in an uphill community in Maa at past 7p.m.Beforethe police arrived, Isabelo Amper, Sr., Mariannet's father, declined to grant reporters an interview and appealedfor assistance for the family to respond personally to the mayor. "Please understand us, the family agreed to talk first tothe mayor," he said.But the Ampers agreed to talk to reporters when Baccay's team arrived.The father denied raping hisdaughter. He said he couldn't have done that to Mariannet, a daughter who is a baby to the family. He said neither he norhis sons could have done that to Mariannet. The Amper household has three other male members, Isabelo Jr., 20;Julieto, 18; and Reynald, 10.It was Reynald who found her "Ate Mannet" first. His older brother Julieto was the one whoremoved the rope around her neck.Baccay asked the two to reenact what they did on the day Mariannet died. They werelater questioned separately, as were their father and brother Isabelo, Jr.Mariannet's father, however, said he couldn't pinpoint a suspect. "This shock ed us. We didn't know she wasalready going through this," he said. "She was not telling us about her problems," he said."Na shock mi. Dili ko katoo ngagi rape siya," (We were shocked. We couldn't believe that she was raped).Mariannet's father said they have bigdogs that would bark at strangers and would attack intruders if ordered so.He also denied a report that a page ofMariannet's makeshift diary was torn to hide the truth.The Department of Education regional office said in theirinvestigation, that Nilda Alasagas, who teaches Pilipino, required her sixth grade pupils to submit a "talaarawan" (diary)written on recycled notebook for submission on November 5.The assignment was for the month of October. Mariannet'sentries were only from October 1 to 25. She died on November 2. Her death was reported only on November 6 when thefamily sought the city government for burial assistance.Mariannet's father vowed to cooperate with theinvestigators even if he said he was shocked that he and his other sons are now suspects. "Bisan pag akong mga anakang makit-an nga nihimo ana," (Even if my sons did it) he said."Padamgohan nalang unta mi ni niya aron mahibaw-annamo kinsa gyud naghimo ato," (I hope Mariannet will show us in a dream who did it to her), he said.Magdalena, thegirl's mother, came to the defense of her husband and sons."They could not do that to Mariannet. Dili na mabuhat saakong bana kang Maneth. Buoton pud na akong mga anak," (My husband could not do that. My sons are good children,too) she said."Lisud kaayo among kahimtang ani karon uy. Nahutdan na ko og luha para mohilak," (We are in verydifficult times. I have run out of tears), she said.Baccay told MindaNews it is possible that Mariannet hanged herself withno assistance from anyone, after her brothers reenacted what they saw. Earlier in the day, he told a press conference,there was a possibility somebody older helped her, citing Reynald's testimony.He explained that the evening visit wasmeant to be an initial questioning on the new course of their investigation. He said he came to formally inform theAmpers of the results of the autopsy. The Amper family, he said, was asked to visit the Talomo police station today(Friday) to make their formal statements.Duterte ordered Baccay to establish if there was rape and to pinpoint theperpetrators.Baccay said everybody who was in contact with Mariannet is a suspect. (Walter I. Balane/ MindaNews)
Mindanews
http://www.mindanews.com
Powered by Joomla!
Generated: 12 August, 2008, 08:42
(SOURCE:
http://66.218.69.11/search/cache?ei=UTF-8&p=mariannet+amper+rape+Isabelo&y=Search&fr=slv8-msgr&u=www.mindanews.com/index2.php%3Foption%3Dcom_content%26do_pdf%3D1%26id%3D3290&w=mariannet+amper+rape+raped+isabelo&d=O1eMMPReRTaN&icp=1&.intl=us
)
Mariannet could have been molested
:
report By Nef Luczon Published : 2007-11-16
Mayor Rodrigo Duterte ordered the police to elevate the investigation on 12-year-old Mariannet Amper from simple SUICIDE to MURDER after the autopsy conducted yesterday indicated she might have been RAPED. Police authorities yesterday invited the Mariannet's father, Isabelito, for questioning. Chief Insp. Tomas Dimaandal, Regional Scene of the Crime Operatives (Soco) XI medico-legal officer, confirmed that there were lacerations on her genitals that were probably healing for "more than weeks." "If we based the laceration's position sa isang relo (on a watch), it's a three-o-clock to nine-o-clock position," Dimaandal said. Dimaandal said he found no foul play on the girl's death. "Hindi siya pilit (There was no force involved). There's only a single and consistent ligature mark. There's no sign of struggle or whatsoever," Dimaandal said. But the mayor is convinced the girl might be raped, though he did not directly pinpoint Mariannet's father, Isabelito as the prime suspect. "I didn't say it's the father who did it but it's the responsibility of the father kung bakit napabayaan niyang mangyari yun sa kanyang anak (Why he allowed it to happen to his child)," Duterte said. He cited the time difference from the girl's alleged suicide to the moment the father reported the inwas four days later. Also, instead of reporting to the police, the parents talked to her teacher, which he said was unusual. Duterte also noted the INITIAL REFUSAL OF THE FATHER to submit Mariannet for autopsy to dispel any suspicions of foul play. Meanwhile, Supt. Matthew Baccay, chief of the Talomo Police Precinct, said they already began the investigation last Monday which they will have to change with the autopsy report. "Gagamitin natin yung (Let's use the) result ng autopsy as lead to our investigation," Baccay said, "and probably there is an angle of a statutory rape here." Department of Education (DedEd) spokesperson Jenielito Atenillo claimed that their own investigation found Mariannet to be despondent prior to her death. He said Mariannet's classmates told them that she suddenly cried without apparent reason and sometimes hid in the comfort room so no one will notice her tears. Duterte took jabs at national government officials and even the media for "romanticizing" the story of Mariannet and making her the poster child of poverty without waiting for the results of the investigation. "The national government should avoid the blame game and not to open their mouths without the facts," he said.
(SOURCE:
http://www.mindanaotimes.com.ph/story.php?id=18525
)
Mariannet Amper before her

TRAGIC DEATH

with her brother
Because of the apparent logically controversial nature of the issue, I was so hooked up in the story that had eventually led me to comment in one of the most popular weblog in the Philippines about the issue on Mariannet in which the title of the blog article was "
Suicide, Media and Mariannet Amper
" and at this point I would like to share with you what happened;
Comment by
quiel
2007-11-12 15:58:29
Who cares about catholic priest's attitude towards blessing cadavers of suicide victims? It will not do any good for the poor girl anyways because that cultic practice is not biblical anyways. The catholic church has been around for almost 400 years in the philippines and majority of filipinos are catholics yet our government is heavily infested with graft and corruption. Cory Aquino and Imelda Marcos are catholics yet they have not forgiven each other up until now. The catholic faith is full of hypocricy and deceit, from being idol worshippers to infant baptizers which are very much AGAINST the Bible. THE CATHOLIC CHURCH HAS BEEN VERY INEFFECTIVE IN PRESERVING HIGH MORAL STANDARDS IN THE PHILIPPINES. I am very sorry but that is the truth.
Comment by
quiel
2007-11-12 16:36:44
I cant help but to remember a certain catholic fanatic desperately defending her faith. You can read the details of her desperate amoks at;
click here
PLEASE CHECK HER OUT
Comment by
Noemi
2007-11-12 16:57:22
@benj- If presented with a choice, then it's an informed decision. I believe Mariannet thought this was her only way out. She didn't think she had a choice. She had no support or intervention. See, these people who feel depressed, hopeless are really asking for help. Young kids are vulnerable and need to be guided. Now if they are adults and have gone through the intervention, meds, and other choices in life, they should know better. Until then, I believe in suicide intervention and prevention. Suicide is a preventable public health problem.
@Quiel- I believe that a few Catholic priests are more progressive now. Except that priest in Davao.
Comment by
quiel
2007-11-12 17:09:23
Hi Miss Noemi and I wish you good health,
First of all, I really like your blog because of it's very interesting format and I would like to commend you for that.
You said and i quote(capitalizations mine);"@Quiel- I believe that a few Catholic priests are MORE PROGRESSIVE now. Except that priest in Davao."MAYBE YOU COULD ELABORATE MORE ON WHAT YOU MEAN BY YOUR STATEMENT "a few Catholic priests are MORE PROGRESSIVE now". PROGRESSIVE IN WHAT CONTEXT AND WHY USE THE WORD "FEW" WHEN YOU COULD USE THE WORD "MANY"?
Comment by
Noemi
2007-11-12 17:13:25
@Quiel - I said few because I only 3 priests so far. THe first is my parish street in my old residence. Second, see comment no 21 where Julie heard the sermon of Fr. Jboy in UP Chapel and third, in comment no 22, I quoted Lingayen-Dagupan City Archbishop Oscar Cruz, where he said that there has already been a change in the church discipline on suicide victims due to the advancement of behavioral sciences.
Comment by
quiel
2007-11-12 21:35:38
I hope you don't mind Miss Noemi but I would like to share a little tought to you and all the readers of your interesting blog what my views are regarding this issue about children committing suicide.
According to you and I quote (capitalization mine), "I quoted Lingayen-Dagupan City Archbishop Oscar Cruz, where he said that there has already been a change in the CHURCH DISCIPLINE on suicide victims due to the ADVANCEMENT OF BEHAVIORAL SCIENCES." The derivative question is CAN THIS (CATHOLIC)CHURCH DISCIPLINE AND ADVANCEMENT OF BEHAVIORAL SCIENCES REALLY IS THE BIBLICAL SOLUTION TO ALL THIS PROBLEM ABOUT JUVENILE SUICIDES? WHAT DOES THE GOD OF THE BIBLE HAS TO SAY REGARDING THIS MATTER?
Catholics accept the bible as a fundamental reference regarding matters of faith right? As a matter of fact there is a section in a catholic mass about Bible reading so I will safely assume that it is just absolutely proper for us to consult the Bible. I don't see any problem if we consult the word of God.
Let us ask an analytical question,
IN THE BIBLE, WHAT SHALL WE REALLY DO TO DETER IF NOT TOTALLY ELIMINATE JUVENILE SUICIDES? IS IT REALLY (CATHOLIC)CHURCH DISPLINE OR ADVANCEMENTS IN BEHAVIORAL SCIENCES THAT WOULD SOLVE THE PROBLEM AS WHAT CATHOLIC PRIESTS BELIEVE ACCORDING TO THE STATEMENT OF LINGAYEN-DAGUPAN CITY ARCHBISHOP OSCAR CRUZ ?
Let us now read the Bible,
In the book of Proverbs chapter 22 verse 6 it reads;
"
Train up a child in the way he should go: and when he is old, he will not depart from it
."
THE BIBLE IS THEN CLEAR THAT A CHILD MUST BE TRAINED IN THE WAY HE SHOULD GO RIGHT?
Let us ask the Bible another question,
WHAT SHALL WE TRAIN A CHILD WITH? ARE WE GOING TO USE ADVANCEMENTS IN BEHAVIORAL SCIENCES AS YOU ARE SAYING OR THOSE (CATHOLIC)CHURCH DISCIPLINE MAYBE?
Let us now read the Bible,
In the book of Ephesians chapter 6 verse 4 we can read;
"
And, ye fathers, provoke not your children to wrath: but BRING THEM UP IN THE NURTURE AND ADMONITION OF THE LORD
."
OBVIOUSLY, WE WILL NOT USE ADVANCEMENTS IN BEHAVIORAL SCIENCES NOR (CATHOLIC)CHURCH DISCIPLINE ACCORDING TO THE VERSE THAT WE HAVE JUST READ, WHAT PARENTS MUST DO IS TO BRING THEIR CHILD UP IN THE NURTURE AND ADMONITION OF THE LORD ACCORDING TO THE VERSE.
Let us now ask another logically valid question,
WHERE CAN WE FIND THIS NURTURE AND ADMONITION OF THE LORD THAT PARENTS OR ANY RESPONSIBLE GUARDIAN MUST USE IN PROPERLY BRINGING UP A CHILD IN THE RIGHT WAY OR PATH WHERE HE MUST GO?
Let us again consult the Bible,
In the book of II Timothy chapter 3 verse 16 we can read this;
"
All SCRIPTURE [is] given by inspiration of God, and [is] profitable for doctrine, for reproof, for correction, for INSTRUCTION in righteousness
:"
SO THE BIBLE HAVE ANSWERED OUR QUESTION, WE MUST INSTRUCT AND TRAIN UP A CHILD NOT USING (CATHOLIC)CHURCH DISCIPLINE NOR ADVANCEMENTS IN BEHAVIORAL SCIENCES BUT BY INTRUCTING THEM USING THE SCRIPTURES ACCORDING TO THE VERSE. WHY THEN WILL WE RESORT TO (CATHOLIC)CHURCH DISCIPLINE AND ADVANCEMENTS IN BEHAVIORAL SCIENCES IF GOD CLEARLY TELLS US WHAT WE MUST DO? IT IS VERY CLEAR THAT LINGAYEN-DAGUPAN CITY ARCHBISHOP OSCAR CRUZ IS GROSSLY MISLED.
If we will then use the Holy Scripture in instructing or training up a child in the way he should go instead of (catholic)church discipline and advancements in behavioral sciences according to the biblically unsound statement of Lingayen-Dagupan City Archbishop Oscar Cruz, CAN THE HOLY SCRIPTURE BE SUFFICIENTLY ENOUGH OR COMPLETE TO RIGHTFULLY INSTRUCT A CHILD? ARE (CATHOLIC)CHURCH DISCIPLINE AND ADVANCEMENTS IN BEHAVIORAL SCIENCES NEEDED TO SUPPLEMENT AND COMPLETE WHAT THE HOLY SCRIPTURE HAS TO OFFER?
At this point let us now directly consult the REAL GOD OF THE BIBLE on what does he have to say regarding his scriptures,
In the book of Isaiah chapter 34 verse 16, God himself solidly declares this pronouncement and we read;
"
Seek ye out of the BOOK OF THE LORD, and read: NO ONE OF THESE SHALL FAIL, NONE SHALL WANT HER MATE: for my mouth it hath commanded, and his spirit it hath gathered them.
"
DO WE STILL NEED (CATHOLIC)CHURCH DISCIPLINE AND ADVANCEMENTS IN BEHAVIORAL SCIENCES? GOD SOLIDLY DECLARES IN THIS BIBLE VERSE THAT HIS BOOK CAN STAND ALONE AND WE DO NOT NEED (CATHOLIC)CHURCH DISCIPLINE AND ADVANCEMENTS IN BEHAVIORAL SCIENCES ANYMORE!
I have been with this issue about juvenile suicides and I personally don't like how Philippine media put the blame SOLELY on the government. WHAT THEY DON'T SEE IS THE BIGGER PROBLEM UNDERLYING ITS CAUSE. Its not poverty nor the government as they are only incidental to the REAL AND FUNDAMENTAL PROBLEM which is THE MORAL BANKRUPTCY OF THE FILIPINO PEOPLE CAUSED BY INEFFECTIVE AND FALSE RELIGIONS DOMINATING THIS COUNTRY. MAYBE ITS TIME FOR US TO DEEPLY ANALYZE AND EVALUATE WHAT KIND OF MORAL STANDARDS DO WE HAVE.
Thank you very much Miss Noemi and I wish you good health and more success. Godbless….
Comment by
benj
2007-11-12 23:11:00
I totally forgot to further nuance my analysis. hehe. Yup, you're right about that, it's fair enough to assume that the young lady was unable to process the information well.
Comment by
quiel
2007-11-13 14:39:21
hey benj, I was not expecting that an atheist like you would also believe in the Bible. I find it very paradoxical is it not benj?
Comment by
Noemi
2007-11-13 19:15:03
@Quiel- thanks for your views. A big event like this always open doors to study existing government programs. I hope her death wasn't in vain.
Comment by
quiel
2007-11-14 11:25:07
Hi Miss Noemi and I wish you good health,
I still strongly believe that what happened to the poor child is not a GENERALLY EPHEMERAL issue because IT ENCOMPASSES ALSO A VERY VALID PREMISE ON OUR MORAL AND RELIGIOUS STANDARDS. It is true that the government is somehow INDIRECTLY accountable for such unfortunate event BUT WHAT WE DON'T SEE IS THE BIGGER AND DEEPER PROBLEM which is THE MORAL ACCOUNTABILITY OF RELIGIOUS LEADERS IN RIGHTFULLY PREACHING THE MORAL VALUE ABOUT CHARITY AND LOVE OF FELLOWMEN. Our government is run by human persons or individuals because IT WILL BE ABSOLUTELY IMPOSSIBLE FOR OUR GOVERNMENT TO FUNCTION WITHOUT THEM. I am absolutely certain that ALMOST ALL of those human persons or individuals running our government HAS SOME SORT OF RELIGION, they could be CATHOLICS or IGLESIA NI CRISTONG TAO NI MANALO, etc.
In the Bible, we can SPECIFICALLY IDENTIFY a distinguishing character of THE TRUE BIBLICAL RELIGION and at this point I just want to share a Bible verse;
In the book of James chapter 1 verse 27 it reads,
"
PURE RELIGION and undefiled before God and the Father IS THIS, To VISIT THE FATHERLESS AND WIDOWS IN THEIR AFFLICTION, [and] TO KEEP HIMSELF UNSPOTTED FROM THE WORLD
."
IT IS THEREFORE CLEAR FROM THE VERSE THAT THE BIBLE REALLY TEACHES A PURE RELIGION OR TRUE BIBLICAL RELIGION UNDEFILED BEFORE GOD AND THE FATHER. IF IT IS PURE AND UNDEFILED BEFORE GOD AND THE FATHER, THEN, IT MUST REALLY BE THE TRUE RELIGION WHICH IS OF GOD!
Let us now then ask an analytically crucial question,
ACCORDING TO THE VERSE, WHAT ARE THE DISTINGUISHING QUALITIES OF THIS TRUE AND PURE RELIGION?
Let us again read the verse for us to answer the question,
"
Pure religion and undefiled before God and the Father is this, To VISIT THE FATHERLESS AND WIDOWS IN THEIR AFFLICTION, [and] TO KEEP HIMSELF UNSPOTTED FROM THE WORLD
."
Let us now list down those DISTINGUISHING QUALITIES supplied by the bible verse;
1. VISIT THE FATHERLESS AND WIDOWS IN THEIR AFFLICTION
2. TO KEEP HIMSELF UNSPOTTED FROM THE WORLD
The bible therefore supplied two distinguishing qualities of a true and pure religion which is CHARITY and CHASTITY and at this point I want to concentrate the discussion to this biblical doctrine called CHARITY.
I know of MANY wealthy catholics in this country. Many of whom can never deplete all their wealth in their entire lifetime, THEY ARE REALLY VERY WEALTHY ACTUALLY. One example is Mr. Augusto Zobel de Ayala, owner of a very influential business conglomerate and one of the wealthiest in the country. Another is Sen. Manny Villar, owner of the Villar group of companies and I could go on and on for me to just enumerate them which means that THERE ARE REALLY PLENTY OF EXTREMELY WEALTHY CATHOLICS IN THIS COUNTRY.
Let us now ask a logically valid question,
IN THE BIBLE, WHAT IS THE DOCTRINE OF THE TRUE BIBLICAL RELIGION FOR ITS WEALTHY MEMBERS? IS THERE ANY?
Let us now get the answer from the Bible,
In the book of 1 Timothy chapter 6 verses 17 to 19 we can read this,
"
CHARGE THEM THAT ARE RICH IN THIS WORLD, that they be not highminded, nor trust in uncertain riches, but in the living God, who giveth us richly all thingsto enjoy; That they do good, that they be rich in good works, READY TO DISTRIBUTE, WILLING TO COMMUNICATE; Laying up in store for themselves a good foundation against the time to come, that they may lay hold on eternal life
."
In the King James Version of the Bible 1611 English Edition the word "communicate" is used in verse 18 but if we will look up the original greek word used in the original greek manuscripts we will find the greek word "koinwnikous" or if we will formally translate it to its closest english word translation we will come up with the word "CONTRIBUTORS" or "CONTRIBUTE".
ACCORDING TO THE VERSES THAT WE HAVE JUST READ, THE RICH IN THIS WORLD ARE CHARGED BY THE BIBLE TO BE READY TO DISTRIBUTE AND TO BE WILLING TO COMMUNICATE OR CONTRIBUTE. Obviously, THIS BIBLICAL DOCTRINE IS NOT WELL THOUGHT BY CATHOLIC CHURCH LEADERS AND ALL RELIGIOUS LEADERS PRETENDING TO BE AUTHENTICALLY CHOSEN BY GOD TO PREACH THE GOSPEL OF THE LORD! Had this doctrine only be thought by religious leaders very effectively, THE CHANCES OF A CHILD COMMITING SUICIDE BECAUSE OF EXTREME POVERTY WILL BE GREATLY AND SIGNIFICANTLY AVOIDED IF NOT TOTALLY ELIMINATED AT ALL.
THIS ISSUE IS BASICALLY A MORAL ISSUE. IT IS ALL ABOUT MORAL STANDARDS AND THE EFFECTIVENESS OF THE CATHOLIC CHURCH AS A MAJOR RELIGIOUS INSTITUTION IN THIS COUNTRY. THE POOR GIRL IS A CATHOLIC AND SO ARE HER PARENTS. HAD THEIR RELIGIOUS LEADERS BEEN EFFECTIVE IN TEACHING TRUE BIBLE DOCTRINE THE POOR GIRL MIGHT STILL BE ALIVE NOW. POOR GIRL SHE HAS A VERY INEFFECTIVE RELIGION…..
I am very sorry Miss Noemi if my statements are a bit strong and hurting but I have no intention of hurting anybody. SOMETIMES WE MUST BRAVELY FACE THE HONEST TRUTH EVEN HOW IT HURTS FOR US TO EFFECTIVELY MOVE ON AND GROW AS A WHOLE PERSON. THE TRUTH MAY HURT BUT THE TRUTH WILL SET US FREE…….
May you have a good day Miss Noemi and I wish you more successes and good health.
Comment by regor
2007-11-14 15:47:50
I like you blog, although I guess it is in danger of being hijacked by bible quoting bible as the be all and end all of everything type of argumentation. Keep it up though and may you be blessed always
Comment by
quiel
2007-11-14 17:59:16
A certain idiot said this blog is in danger of being hijacked by bible quoting bible as the be all and end all of everything type of argumentation. Apparently this idiot was refering to me because as far as I know I am the only commentator in this blog article to quote the Bible. I dont know if this unfortunate creature HATES the bible or what. This idiot refers to quoting the Bible as hijacking! I cant believe these kinds of lowlife exist.
Comment by
Noemi
2007-11-15 15:13:57
@quiel- oops I thought it was a double post. Good for you that you know the bible passages. I really need to brush up on it.
@regor- it's good to have a variety of readers. As commenters in my blog, we agree to disagree.
Comment by regor
2007-11-15 17:15:15
I understand the agreeing to disagree part but the assumption that the only truth is the truth in the Bible or stated another way, that salvation can only be through Christ, that is another matter though and that is what, essentially, the bible quoter is doing. What I said was merely an observation or argument against what she is doing and she calls me an idiot? That reflects very well on her beloved religion. May your God bless you with more understanding and the grace of uncertainty regarding matters of faith so that you will understand more the human condition than the certainly you feel about your untested faith.
Comment by
quiel
2007-11-15 19:34:14
Like what I said, this idiot commentator accuses the commentator who quotes the Bible as ASSUMING that the only truth is the truth in the Bible or stated another way, that salvation can only be through Christ, that is another matter though and that is what, essentially, the bible quoter is doing. NEVER IN ANY AND ALL MY COMMENTS HERE THAT I ASSUMED SUCH AS HE IS ACCUSING ME OF! If it just so happen that I made Bible quotations here, IT IS IN SUPPORT OF MY ARGUMENT THAT THE ISSUE ABOUT JUVENILE SUICIDE, WHICH IS THE TOPIC OF THIS ARTICLE, CAN BE VERY MUCH LINKED TO THE INNEFECTIVENESS OF THE CATHOLIC CHURCH IN PRESERVING HIGH STANDARDS OF MORALITY HERE IN OUR COUNTRY THEN OUT FROM WHEREVER HERE COMES THIS DESPERATE IDIOT ACCUSING ME OF SOMETHING I DID NOT EVEN CLAIM NOR INSINUATED WHATSOEVER! MAYBE ITS HIS RELIGION THAT REFLECT WHO HE IS BECAUSE HE IS A BIG FALSE ACCUSER AND A VERY BIG DESPERATE LIAR!!!
Miss Noemi, I am very sorry if my statements are too strong and frank. I just cant take this desperate commentator FALSELY and MALICIOUSLY accusing another commentator. Im very sorry Miss Noemi….
Comment by
quiel
2007-11-16 12:39:08
Hi Miss Noemi!
I would just like to share with you and all the intelligent readers of your very informative blog a certain Bible passage and please let us read.
In the book of Proverbs chapter 6 verses 16 to 19 we can read this;
"
These six [things] doth the Lord HATE: yea, seven [are] an ABOMINATION UNTOHIM: A proud look, a LYING TONGUE, and hands that shed innocent blood,An heart that deviseth wicked imaginations, feet that be swift in running to mischief, A FALSE WITNESS [that] SPEAKETH LIES, and he that soweth discord among brethren
."
ACCORDING TO THE VERSE THAT WE HAVE JUST READ MISS NOEMI, GOD HATES LIARS AND FALSE ACCUSERS and I cant help but to think of a certain desperate commentator of yours who is a VERY BIG DESPERATE LIAR and also A VERY BIG FALSE ACCUSER. I pity these kinds of people because biblically speaking, GOD HATES THESE KINDS OF PEOPLE THAT ARE LIARS AND FALSE ACCUSERS. NO WONDER THIS COMMENTATOR OF YOURS COMMENTED AND I QUOTE HIS STATEMENT, "I guess it is in danger of being HIJACKED by bible quoting bible AS THE BE ALL AND END ALL OF EVERYTHING TYPE OF ARGUMENTATION". OBVIOUSLY, THESE PEOPLE ARE VERY MUCH TO BE CATEGORICALLY CLASSIFIED AS ENEMIES OF GOD'S WORD OR THE BIBLE AND THESE PEOPLE REALLY ARE NOT AFRAID OF LYING ON THE WORLD WIDE WEB!! NO WONDER THE GOD OF THE BIBLE HATES THESE KINDS OF VERY UNFORTUNATE CREATURES.
Comment by
quiel
2007-11-16 14:33:17
To further prove that this desperate commentator is really A BIG DESPERATE LIAR, he said and I quote him, "…..but the ASSUMPTION that THE ONLY TRUTH IS THE TRUTH IN THE BIBLE or stated another way, THAT SALVATION CAN ONLY BE THROUGH CHRIST, that is another matter though and THAT IS WHAT, ESSENTIALLY, THE BIBLE QUOTER IS DOING…."WHERE IN EVERY CORNERS OF HELL DID HE READ IN ANY AND ALL COMMENTS OF THAT BIBLE QUOTER THAT THE BIBLE QUOTER HAS IN ANY WAY ASSUMED THAT THE ONLY TRUTH IS THE TRUTH IN THE BIBLE AND THAT SALVATION CAN ONLY BE THROUGH CHRIST? WHERE IN HELL DOES THAT COME FROM?The bible quoter that he is refering to DID NOT EVEN MENTIONED the word "CHRIST" in ANY AND ALL of his comments! Can you now blame me why I called this commenter IDIOT when the honest fact is HE IS NOT ONLY AN IDIOT but a very big desperate LIAR!!
Comment by
Xian
2007-11-27 12:45:47
To Regor:
I strongly disagree to your false accusations against Quiel, one of the commentors in here. I know why you´re reacting that way for I believe that it´s just your very nature drives you to say that acertain Bible quoter is a "hijacker." You are an authentic-liar-of-a-kin, dont you know that? I say that because your very nature Regor is the very authenticated-true-copy of the nature of your "father" (John 8:44)______________"44YE ARE OF YOUR FATHER THE DEVIL, and the lusts of your father ye will do. He was a murderer from the beginning, and abode not in the truth, because there is no truth in him. When he speaketh a LIE, he speaketh of his own: for he is a LIAR, and the FATHER OF IT." (KJV)
You are really a copy-cat of your father. Have you not learn a little respect of yourself and to the Holy Scriptures which we highly regard as the Holy Words of God even the God of Israel? Do your religion have not teach you a little faith on God´s words written in the Bible. I presume you weren´t because of your idiotic devilish attitude and unbecoming towards the Bible verses that Quiel has quoted on his comments above. Huh. I pity you regor! I really pity you for you´re such an ignoramus and heretics on God´s words.
Remeber this very principle in thsese very verses: (Matthew 7:16-17)________________"16YESHALL KNOW THEM BY THEIR FRUITS. Do men gather grapes of thorns, or figs of thistles?17Even so every good tree bringeth forth good fruit; but a CORRUPT TREE bringeth forth EVIL FRUIT." (KJV)
You are what your religion is. When your a liar, your religion is like what you are. When you hate the verses of the Bible, truly that your religion hates them too for your person manifested what your religion is, a Bible-hater and a God-hater too (Romans 1:29-31)___________________"29Being filled with all unrighteousness, fornication, wickedness, covetousness, maliciousness; full of envy, murder, debate, deceit, malignity; whisperers,30Backbiters, HATERS OF GOD, despiteful, proud, boasters, INVENTORS OF EVIL THINGS, disobedient to parents,31Without understanding, covenantbreakers, without natural affection, implacable, unmerciful:" (KJV)
for you are not of God (John 8:47)___________________"47He that is of God heareth God's words: YE THEREFORE HEAR THEM NOT, because YE ARE NOT OF GOD." (KJV)
Now that in the same way with Quiel, I am quoting verses of the Bible will be calling me a hijacker too? Oh com' on, go ahead!
xian
(SOURCE:
http://aboutmyrecovery.com/2007/11/10/suicide-media-and-the-catholic-church/#comments
)
Obviously the poor girl was rejected by his father by denying her justice due her by initially REFUSING to submit Mariannet for autopsy to dispel any suspicions of foul play and according to police reports made after due investigations by police authorities, "confirmed that there were lacerations on her genitals that were probably healing for "more than weeks." "If we based the laceration's position sa isang relo (on a watch), it's a three-o-clock to nine-o-clock position," Dimaandal said. Dimaandal said he found no foul play on the girl's death. "Hindi siya pilit (There was no force involved). There's only a single and consistent ligature mark. There's no sign of struggle or whatsoever," Dimaandal said. But the mayor is convinced the girl might be raped, though he did not directly pinpoint Mariannet's father, Isabelito as the prime suspect. "I didn't say it's the father who did it but it's the responsibility of the father kung bakit napabayaan niyang mangyari yun sa kanyang anak (Why he allowed it to happen to his child)," Duterte said. He cited the time difference from the girl's alleged suicide to the moment the father reported the inwas(incident) four days later". WHY WOULD A FATHER NOT BE CONCERNED WITH HIS OWN DAUGHTER'S JUSTICE BY REFUSING TO ALLOW POLICE AUTHORITIES TO CONDUCT AN AUTOPSY WITH THE POOR GIRL'S CADAVER? WHAT IS HE TRYING TO CONCEAL? WHY DID IT TOOK FOUR COLD DAYS BEFORE THEY FINALLY REPORTED THAT THEIR DAUGHTER KILLED HERSELF WHEN SHE WAS SEEN HANGING FROM THEIR OWN HOUSE FOUR DAYS EARLIER? IT IS VERY CLEAR BASED ON THE AUTOPSY OF THE YOUNG GIRL'S CADAVER THAT IT WAS INDEED A CASE OF
STATUTORY RAPE
AND IT IS VERY OBVIOUS FROM THE REACTIONS OF THE GIRL'S FATHER THAT HE REALLY TRIED EVERYTHING TO CONCEAL WHAT REALLY HAPPENED TO HIS DAUGHTER. A "NORMAL" FATHER WOULD DO EVERTHING TO BRING JUSTICE TO THE CAUSE OF HIS CHILDREN BUT MARIANNET'S FATHER IS WILDLY DIFFERENT, HE DOES NOT WANT TO COOPERATE IN BRINGING JUSTICE TO HIS OWN DAUGHTER'S CAUSE! EVEN AFTER HER DEATH HER FATHER IS STILL REJECTING HER!
But luckily the girl died without inflicting
FATAL
aftermaths to other people as a result of being rejected by her own father. She just kept the
INTENSE PAIN
inside until it was
TOO UNBEARABLE
to contain.
SHE HAD CUT HER LIFE SHORT BY HANGING HERSELF INSIDE THEIR HOUSE WITHOUT CAUSING THE DEATH OF INNOCENT VICTIMS AS A RESULT OF HER FATHER'S REJECTION
. The reason why I mentioned this is not because I am happy that the young girl died but because I do know some
NOTORIOUSLY
FAMOUS persons who had caused much
HARM
to other people of
LETHALLY CATASTROPHIC
proportions as a result of their father's rejection. They are
ADOLF HITLER
and
JOHN WAYNE GACY
.
When we talk of
GENOCIDE
,
MASS MURDER
and
NAZISM
, nothing and no one can ever rival the breathtaking grandeur of the most
NOTORIOUS
dictator that ever walked on the face of planet earth….
ADOLF HITLER
!
Before he was notoriously famous for his
KILLER
instinct of gigantic proportions by
MURDERING
almost
17 million
souls he also was once a small boy child. But his childhood was short of practically being called
HELL
.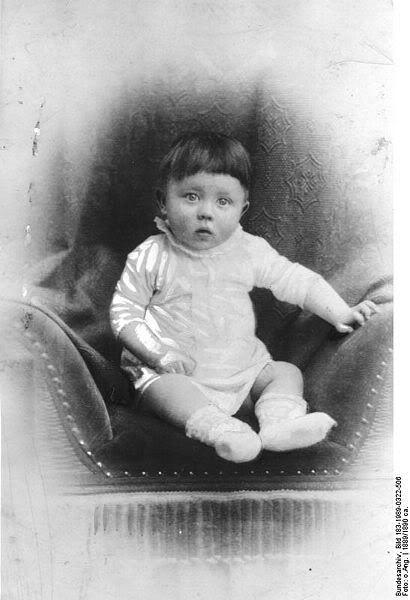 The small boy child Adolf Hitler

VIOLENTLY BEATEN

by his own father few years later
Hitler had a
TROUBLED
childhood, as his father was
VIOLENT
to him and
VIOLENT
towards his mother. Hitler himself said that, as a boy, he was often
BEATEN
by his father. Years later, he told his secretary: "I then resolved never again to cry when my father whipped me. A few days later I had the opportunity of putting my will to the test. My mother, frightened, took refuge in front of the door. As for me, I counted silently the blows of the stick which lashed my rear end". Some historians believe a history of family violence committed by his father against his mother is indicated in a section of his book Mein Kampf in which Hitler describes in vivid detail an anonymous example of family violence committed by a husband against a wife. This along with beatings by his father against him could explain Hitler's deep emotional attachment to his mother while at the same time having deep resentment towards his father. Hitler later said that his educational slump was a
REBELLION
against his father, who wanted the boy to follow him in a career as a customs official; he wanted to become a painter instead. This explanation is further supported by Hitler's later description of himself as a
MISUNDERSTOOD
artist. After Alois died on 3 January 1903, Hitler's schoolwork did not improve. At age 16, Hitler dropped out of high school without a diploma.
Unfortunately, Adolf Hitler was resilient enough to have survived his father's
TORTUROUS
physical, psychological and verbal
ABUSE
on him. In fact, he even managed to become a head of state! He was the ruler of Germany from 1933 to 1945, serving as Chancellor from 1933–1945 and Führer (head of state) from 1934–1945.
Hitler's administration was one of the most
BLOODIEST
and
DEADLIEST
in Germany. He tried anything and everything to be at the highest echelons of political power even at the cost of many innocent peoples lives. He was also a power grabber like Gloria Macapagal-Arroyo having been instrumental in a failed German Coup D'etat. Encouraged by this early support, Hitler decided to use Ludendorff as a front in an attempted coup later known as the Beer Hall Putsch (sometimes as the Hitler Putsch or Munich Putsch). The Nazi Party had copied Italy's fascists in appearance and also had adopted some programmatical points, and in 1923, Hitler wanted to emulate Benito Mussolini's "March on Rome" by staging his own "Campaign in Berlin". Hitler and Ludendorff obtained the clandestine support of Gustav von Kahr, Bavaria's de facto ruler, along with leading figures in the Reichswehr and the police. As political posters show, Ludendorff, Hitler and the heads of the Bavarian police and military
planned on forming a new government
. On 8 November 1923, Hitler and the SA stormed a public meeting headed by Kahr in the Bürgerbräukeller, a large beer hall in Munich.
He declared that he had set up a new government with Ludendorff
and demanded,
at gunpoint
, the support of Kahr and the local military establishment for the
destruction
of the Berlin government. Kahr withdrew his support and fled to join the opposition to Hitler at the first opportunity. The next day, when Hitler and his followers marched from the beer hall to the Bavarian War Ministry to overthrow the Bavarian government as a start to their "March on Berlin", the police dispersed them. Sixteen NSDAP members were
killed.

Hitler fled to the home of Ernst Hanfstaengl and

contemplated suicide

.
Driven by his thirst for power amidst his frustration to illicitly grab power and having been
SUICIDAL
for a time, Adolf Hitler managed to pick up the pieces from his
FAILURE
and go on to become one of the most psychotic tyrant the world has ever known. At the time of Hitler's release from prison, the political situation in Germany had calmed and the economy had improved, which hampered Hitler's opportunities for agitation. Being a shrewd opportunist however, he used people, influential politicians and businessmen in Germany, to gain for himself absolute political power. Having secured supreme political power, Hitler went on to gain public support by convincing most Germans he was their savior from the economic Depression, communism, the "Judeo-Bolsheviks," and the Versailles treaty, along with other "undesirable" minorities. The Nazis eliminated opposition through a process known as Gleichschaltung ("bringing into line").
THIS PROCESS OF ELIMINATION MEANS MURDERING INNOCENT HUMAN LIVES JUST TO ASSURE ABSOLUTE POWER AND FOR THE REALIZATION OF HITLER'S PSYCHOTICALLY TWISTED IDEOLOGIES
. One of the foundations of Hitler's social policies was the concept of racial hygiene. It was based on the ideas of Arthur de Gobineau, a French count, eugenics, a pseudo-science that advocated racial purity, and social Darwinism. Applied to human beings, "survival of the fittest" was interpreted as requiring racial purity and
killing off
"life unworthy of life." Hence, the birth of one of the most DEADLIEST period in human history,
THE HOLOCAUST
.
Tightly based on Darwin's Theory of Evolution, natural selection and eugenics, the Holocaust was one of the most
FRIGHTENING
period in human history as it was a
GENOCIDE
of approximately six million European Jews during World War II, as part of a program of DELIBERATE
EXTERMINATION
planned and executed by the National Socialist German Workers' Party (Nazi) regime in Germany led by Adolf Hitler. Other groups were also
persecuted
and
killed
, including the Roma; Soviet civilians, Soviet prisoners of war; ethnic Poles; the disabled; homosexual men; and political and religious opponents. Most scholars, however, define the Holocaust as a genocide of European Jewry alone, or what the Nazis called the "Final Solution of the Jewish Question." Taking into account all the victims of Nazi persecution,
the total number of victims would be between nine and 11 million
.
A mass grave inside Bergen-Belsen, the holocaust

systematically killed

a broadly estimated

17 million human

lives

.

The
slaughter
was systematically conducted in virtually all areas of Nazi-occupied territory in what are now 35 separate European countries. It was at its worst in Central and Eastern Europe, which had more than seven million Jews in 1939.
About five million Jews were killed there
, including
three million
in occupied Poland and over
one million
in the Soviet Union. Hundreds of thousands also died in the Netherlands, France, Belgium, Yugoslavia and Greece. The Wannsee Protocol makes clear that the Nazis also intended to carry out their "final solution of the Jewish question" in England and Ireland. Anyone with three or four Jewish grandparents was to be
exterminated without exception
. In other genocides, people were able to escape death by converting to another religion or in some other way assimilating. This option was not available to the Jews of occupied Europe. All persons of recent Jewish ancestry were to be
exterminated
in lands controlled by Germany.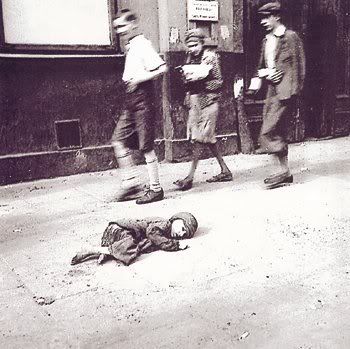 A child dying in the streets of the crowded Warsaw Ghetto, where hunger and disease killed 43,000 in 1941 alone.

The number of victims depends on which definition of "the Holocaust" is used. Donald Niewyk and Francis Nicosia write in
The Columbia Guide to the Holocaust
that the term is commonly defined as the
mass murder
, and attempt to
wipe out
, European Jewry, which would bring the total number of victims to just under six million — around 78 percent of the 7.3 million Jews in occupied Europe at the time. Broader definitions include the 220,000 Roma and Sinti, and the 200,000 disabled and mentally ill who were killed, because these groups were also targeted for eradication. A broader definition still includes political and religious dissenters, two to three million Soviet POWs, and 5,000 to 15,000 gay men, bringing the
death toll
to
nine million
. This rises to 11 million if the deaths of 1.8 to 2 million ethnic Poles are included. The broadest definition would include Soviet civilians, raising the death toll to
17 million
.
But like the title of one of my favorite song by Ms. Barbra Streisand "Some Good Things Never Last", Hitler's
insanity
was abruptly cut by an
EXCRUCIATINGLY PAINFUL DEFEAT
. With this very painful defeat Hitler's
SUICIDAL TENDENCY
uncontrollably consumed his whole being and a very
COWARD LOSER
surfaced on him.
HE HAD FINALLY AND SUCCESSFULLY MET HIS VERY TRAGIC DEATH
. Hitler took up residence in the Führerbunker on 16 January 1945 where he presided over a rapidly disintegrating Third Reich as the Allies advanced from both east and west. By late April Soviet forces had entered Berlin and were battling their way to the centre of the city where the Chancellery was located.
On 22 April Hitler had what some historians later described as a
NERVOUS BREAKDOWN
during one of his military situation conferences, admitting defeat was imminent and Germany would lose the war. He expressed his intent to
KILL HIMSELF
and later asked physician Werner Haase to recommend a reliable method of
SUICIDE
. Haase suggested combining a
DOSE OF CYANIDE
with a
GUNSHOT TO THE HEAD
.
Hitler had a supply of
cyanide capsules
which he had obtained through the SS. Meanwhile, on 28 April Hitler learned of Heinrich Himmler's attempt to independently negotiate a peace treaty. Hitler considered this treason and began to show signs of
PARANOIA
, expressing worries the cyanide capsules he had received through Himmler's SS were fake. He also learned of the
EXECUTION
of his ally Mussolini and vowed not to share a similar fate. To verify the capsules' potency he ordered Dr. Haase to try them on his dog Blondi and the animal died as a result.
After midnight on 29 April, Hitler married Eva Braun in a small civil ceremony in a map room within the bunker complex. Antony Beevor states that after hosting a modest wedding breakfast with his new wife Hitler took secretary Traudl Junge to another room and dictated his last will and testament. He signed these documents at 04:00 and then retired to bed (some sources say Hitler dictated the last will and testament immediately before the wedding, but all sources agree on the timing of the signing).
Hitler and Braun lived together as husband and wife in the bunker for less than 40 hours. Late in the morning of 30 April, with the Soviets less than 500 metres from the bunker, Hitler had a meeting with General Helmuth Weidling, commander of the Berlin Defence Area, who informed Hitler the Berlin garrison would probably run out of ammunition that night. Weidling asked Hitler for permission to break out, a request he had made unsuccessfully before. Hitler did not answer at first and Weidling went back to his headquarters in the Bendlerblock where at about 13:00 he got Hitler's permission to try a breakout that night.
Hitler, two secretaries and his personal cook then had a light lunch consisting of spaghetti with light sauce, after which Hitler and Eva Braun said their personal farewells to members of the Führerbunker staff and fellow occupants, including the Goebbels family, Bormann, the secretaries and several military officers. At around 14:30 Adolf and Eva Hitler went into Hitler's personal study.
Some witnesses later reported hearing a
LOUD GUNSHOT
at around 15:30 (the Goebbels' young son is said to have declared, "A bull's-eye!", or "A direct hit!" thinking it was a bomb overhead). After waiting a few minutes, Hitler's valet Heinz Linge, with Bormann at his side, opened the door to the small study. Linge later stated he immediately noted a scent of burnt almonds, a common observation made in the presence of prussic acid, the gaseous form of cyanide. The Hitlers were both sitting on a small sofa, Eva on the left, Adolf to her right. Eva's body slumped away from Adolf's. Hitler appeared to have
SHOT HIMSELF
in the right temple (there was an exit wound towards the top, left side of his head) with a Walther PPK 7.65 mm pistol which lay at his feet.
BLOOD DRIPPING
from Adolf's temple and chin had made a large stain on the right arm of the sofa and was pooling on the floor/carpet. Eva had no visible physical wounds and Linge assumed she had
POISONED HERSELF
.
Hitler made headlines around the world when he finally met his tragic death

.



Unlike Hitler's
TERRIBLE KILLER INSTINCT
which was a TOLERABLE German government program during that time which means that it was indeed an open and indiscreet public knowledge as it is happening, JOHN WAYNE GACY'S tragic life story was extremely different for he
KILLED
so many people stealthily as the public embraced him as an admirable public figure.
JOHN WAYNE GACY is one of the most notorious
SERIAL KILLER
in American history. He was convicted and later
EXECUTED
for the
RAPE
and
MURDER
of
33 boys and young men
between 1972 and his arrest in 1978, 27 of whom he buried in a crawl space under the floor of his house, while others were found in nearby rivers. Like Mariannet and Hitler he was also rejected by his own father at a particular point of his vulnerable life. He had a
TROUBLED RELATIONSHIP
with his father, an
ALCOHOLIC
who
ABUSED
him and called him a "sissy", A
REJECTION
THAT ULTIMATELY
DESTROYED
HIS LIFE.
Undeniably, based on the preceding tragic life stories of Mariannet Amper, Adolf Hitler and John Wayne Gacy, these three vulnerable victims had fallen prey to an invariably common denominator,
ALL OF THEM WERE REJECTED BY THEIR OWN FATHER AT A PARTICULAR POINT IN THEIR LIFE WITH LETHALLY TRAGIC CONSEQUENCES
.
This issue is a
very sensitive
issue and is about the R
ELATIONSHIP OF A FATHER TO HIS CHILD
. More than the PHYSICAL aspect science really has no concrete explanations regarding these matters on a PHYSICALLY OBSERVABLE scientific perspective. Science can only SPECULATE through physical behaviors and statistical studies the MOST PROBABLE control areas and heuristic applications but can
NEVER
address specific guidelines on how these tragic consequences can be effectively minimized if not eliminated.
THIS ISSUE IS A MORAL ISSUE NOT A SCIENTIFIC ONE AND SCIENCE ALONE CANNOT SOLVE THIS IDENTIFIED PROBLEM AREA
! If we will attempt to solve the problem through scientific methods and procedures
WE WILL CERTAINLY FAIL
and let me justify my statement;
After his execution, Gacy's brain was removed. It is currently in the possession of Dr. Helen Morrison, who interviewed Gacy and other serial killers in an attempt to isolate common personality traits of violent sociopaths; however, an examination of Gacy's brain after his execution by the forensic psychiatrist hired by his lawyers revealed
NO
ABNORMALITIES. Dr. Helen Morrison further states,
"
I believe and continue to believe that what we don't know about John Gacy is more vast than we will ever imagine in my lifetime or in yours
."
If we will then use science alone to solve the problem WE WILL THEN CERTAINLY FAIL! Science is limited and can never explain everything contrary to what ATHEISTS believe that it can.
SCIENCE CANNOT EXPLAIN EVERYTHING TO THE UTTER DISMAY OF ALL ATHEISTS WHICH FOR ME ARE PRACTICALLY IDIOTS
. It is therefore clear and a PROVEN FACT that scientific knowledge is VERY LIMITED and cannot be relied upon entirely.
But something happened more than 2,000 years ago long before science's boastful scientific breakthroughs were discovered, long before the field of forensic psychiatry and the table of chemical elements were scientifically formulated and long before human beings have known the science of modern psychiatry. More than 2,000 years ago somebody wrote something and at this point I just want to share to you what it is. Written in an ancient manuscript dated roughly 2,000 years ago in Koine Greek I have read this scriptural text (formally translated from Koine Greek to English);
"
Fathers, do not provoke your children to anger, but bring them up in the discipline and instruction of the Lord
."
The scriptural text above clearly is talking about
FATHERS NOT PROVOKING THEIR CHILDREN TO ANGER
and is talking about bringing them up in the discipline and instruction of a certain "LORD". Why is this someone who wrote this scriptural text commands fathers to not provoke their children to anger? Is it just coincidence that he has already known the
LETHALLY CATASTROPHIC
effect of a fathers rejection to his own child? Where does this scriptural text came from?
Actually the scriptural text above came from the Bible which is in fact almost 3,700 years in the making and had only been finished more than 2,000 years ago. This
INTRIGUING
scriptural text came from a letter of St. Paul to the Ephesians in chapter 6 verse 4 which says;
"Fathers, do not provoke your children to anger, but bring them up in the discipline and instruction of the Lord."
WHAT
INTRIGUES
ME THE MOST IS THAT
EVEN BEFORE
THE BASIC PRINCIPLES OF MODERN PSYCHOLOGY WERE FORMULATED BEING A VALID BRANCH OF MODERN SCIENCE AND
WAY LONG BEFORE
FREUDIAN THEORIES WERE THOUGHT BY MODERN HUMAN BEINGS HERE IS THIS
ANCIENT
SCRIPTURAL TEXT MORE THAN 2,000 YEARS OLD EFFECTIVELY SUGGESTING A SCIENTIFIC APPROACH IN PREVENTING THOSE LETHALLY CATASTROPHIC RESULT OF A FATHER'S REJECTION OF HIS OWN CHILD.
We must not only look on human brain's chemical imbalances and material interactions alone.
WE MUST ALSO LOOK ON WHAT IS NOT PHYSICAL
.
MAYBE ATHEISTS MUST ALSO LISTEN TO WHAT GOD HAS TO SAY IN THE BIBLE
. There is no God anyways according to them. What will they lose if they believe. Maybe if all fathers in this world, including the father of Mariannet Amper, Adolf Hitler and John Wayne Gacy were effectively thought of the Bible by their INCOMPETENT religious leaders then maybe there will be no Mariannet Amper, Adolf Hitler and John Wayne Gacy and there will be no gory bloodsheds and murders.