He cared for nothing more than a PENIS ENLARGER he bought from the House of Condom in Singapore on a credit card NOT HIS OWN.

He also cared for nothing more than a change of face from one that looked like a bicycle's seat to one of a handsome-looking elite.

Lastly, he also cared for nothing more than an identification card sporting the name of the highest official of the church organization he belonged to – one that he would BETRAY later on and charge of RAPE in order to materially survive.

All of these have been his passport to stardom – a spotlight he shares with his new organization, the Iglesia ni Cristo (INC) with all the attention of the International Crime Police Organization or INTERPOL.

DANIEL VERIDIANO, alias PUTO, the man for whom the Interpol would mobilize to catch his enemy is now the man of the hour – thanks to an all-powerful church group in the Philippines he is now a part of.

The common denominator to Puto and the INC is that they have the same enemy – Eliseo Fernando Soriano – the walking bible who readily says a mouthful about religions he had examined to be deceiving people and whatever he sees as evil. No matter that the constitution of the Interpol says it doesn't involve itself in crimes that do not overlap several member countries in order to maintain as politically neutral a role as possible, Eliseo Soriano's name is suddenly in its list. Puto's enemy and the INC's enemy seems well-taken care of. From a rape case that Puto concocted, helped by his Iglesia ni Cristo, they have him secure on a "Red Notice" of the Interpol according to an INC report.

Wikipedia quotes the constitution of the Interpol that this organization's work focuses primarily on public safety, terrorism, organized crime, war crimes, illicit drug production, drug trafficking, weapons smuggling, human trafficking, money laundering, child pornography, white-collar crime, computer crime, intellectual property crime and corruption. Granted that Soriano had committed the crime of rape, it doesn't come up yet to any of these crimes listed that would involve the Interpol.

Puto must be laughing at everyone since he, himself only mocked up the rape charge. Suddenly it leads to an international watch by a most respected body. Whoever had that posted there must have prepared a most believable report. But that is not the concern of Puto as his godfathers in the Iglesia ni Cristo have everything prepared for him. He only has to keep mouthing lies against Soriano and he gets to continue with his new-found job - a ready source of income to maintain his new face and high living, and perhaps to continue with his gay sexual pursuits.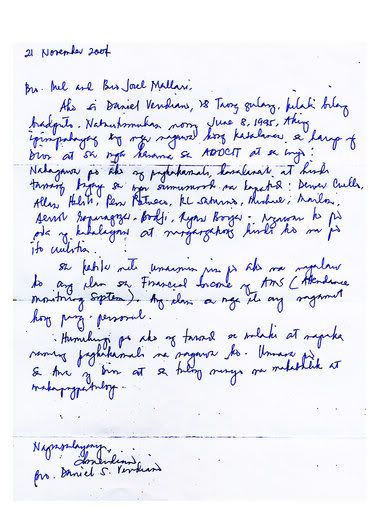 PUTO'S CONFESSION OF RAPE and pilfering of church collections. Puto mentioned only 9 of his victims. When he was told that 14 complained as having been molested by him, he answered, "Hindi ko na matandaan." (I cannot anymore recall.) He wrote this confession in his bid to be forgiven and be re-considered, yet he kept mum about his wild purchases.
By now, the length and size of his penis have become common knowledge to the public. Over at YouTube, the videos describe his organ as really large. His rape victims demonstrate an open "O" with their thumb and pointer finger. They say it is 5-and-a-half inches in length but the size has become their problem because when he forced his penis into their anus, it was really painful.
Penis enlarger as an item had caught the attention of the church administration when receipts began coming in for the credit card Puto used beginning July 30, 2002. It is hardly an item for church use. It showed a grossly irresponsible shopper who was already going out of his way from the doctrines being preached by Soriano. When asked about the penis enlarger, he said that the preacher had asked for it.

Initially, the shopping list showed many luxury items for food, health and sports and even if the amounts were superfluous, it did not quite alarm the Administration. Puto went from city to city and in one day, he could be in several places with his spending spree to include Baguio, Manila, Olongapo, Pampanga, Davao, and even outside the country like Singapore.

Puto was allowed to purchase materials for emergency use for his office, which is why he had access to an extension credit card, but he went loose. What appeared to be just a fancy buy when he included unauthorized purchases for his medication from Healthy Options and GNC Live Well, and sports outfits from Toby's, led him from one thing to another. He probably wore the most expensive brief hereabouts and he bragged to his friends that they cost thousands. Just like the luxury items he wore, he told his office mates that they came from the preacher. From purchasing Botox treatments to expensive information technology (IT) items, cameras, watches and clothes, he got bolder and bolder that he took on expensive holiday trips to tourism beaches to dream up a life he did not rightfully deserve. He was testing the limits of the extension credit card.

Secretly, Puto had long been riding along an identification card that he had prepared himself as head of the Attendance Monitoring System, which is why the purchases under that name did not immediately take concern. For the name on that ID, he printed that of the preacher. For the photograph, he pasted that of his newly minted face. The signature, he had the gold finger for that.
NEW FACE AND STOLEN IDENTITY. Puto made an ID placing himself as producer of Breakthrough, a program in UNTV. As people in UNTV are acquainted with him, he would use this ID for secret transactions. Yet this same identity he had stolen belonged to the man he would one day betray - Bro. Eliseo Soriano.
With the credit card, it was like he could buy anything we wanted at every turn – shades, watches, jewelries, shoes, clothes, dinners with friends, you name it. A sensible man would be satisfied with one watch for a long, long time, just as he would with some shades. But he was not. It was like every week, he needed a new pair.

Puto thought the banks were his very own wallet. His favorite were the Metrobank and Bank of Philippine Islands (BPI) where he could draw cash advance with the credit card five times to a total of PHP 90,000 in just one day. And then he would shift to other branches to do the same after two or three days. While Onesimus Men's sells expensive clothes, mostly barong (intricately designed from Philippine native jute), they were chicken to Puto. Groceries on the credit card sounded like he was supplying a big 24/7 convenience store. He didn't even hide the fact that when he shopped, he included the carts of the department store up to his own vehicle. Still single, it was like he was feeding a big party all the time as reflected in his grocery lists. Those lists also projected someone running frequently for medical needs.
PUTO'S PENIS ENLARGER, the item that got the Administration's eye on him. This photo was taken after he left for Boracay, a popular beach resort in the country, and complaints against him were beginning to pile up. The metal-looking part is a manual pump provided with a connector. The large, tall glass comes with the set. Advertisements on penis enlarger say it can work the penis up to 3 inches larger.
Puto loved jewelries so much like he has many hands and neck to adorn, but he appeared to be buying gifts for himself and for others too. The list of Puto for 2003 just for watches and jewelries showed the following in Philippine Pesos: Swatch, 800; Swatch, 3,500; Swatch, 13,600; Lucerne, 6,400; A. Rialto 39,697.00; Montre watch, 26,620; A. Rialto 18,800; A. Rialto 14,776; Venice jewelers, 40,000; and L. Heng Jeweller (Singapore) 79, 131. For 2003 alone, he spent a total of PHP 243,324.00.

For 2004, his list also showed the following just for watches and jewelries alone: Mossanite, 9,000; A. Rialto 23, 364; Multi Time, 446, 777; Gorriceta karat, 18, 801; A. Rialto, 14,750; and No Curfew, 23,940. For this year alone, and for these items, he incurred PHP 536, 632. In two years time, he bought several watches and fine jewelries from only a few thousands to enormous amounts to total PHP 779,956.

Puto might not have a car but he rode taxis like he could afford any distance on any amount. He might not have a house, but he seemed to have furnished many already from the items he had bought. Like the gay, he is, he frequented much the SM department stores of the country where he had his frequent beauty treatments.

It was on February 20, 2003 that Dermclinic would first work on his face, followed by so many others. No treatment was less than PHP 15,000 on the credit card so that he may have thought of paying in cash and going for more expensive treatments.. Suddenly the cash advances were becoming frequent so that by the time he was found out in 2004, his minted face had spent a fortune. It was after some five months, though - after his change of face - on August 7, 2003 that he bought his penis enlarger in Singapore for PHP 10, 607.93.
THE REAL DANIEL VERIDIANO, alias Puto, on the left before he underwent some facial works - charged to the credit card meant for purchasing church equipment. Soriano excommunicated Puto from the Church of God, International after which Puto joined the Iglesia ni Cristo (INC) and filed a rape case against the preacher. The INC had been filing case after case against Soriano even before Puto joined them, which filing continues to this day.
Records show that from 2002 to 2004, Puto had been purchasing IT equipment presumed to be for use of his former office in the ADDCIT (communication, information and technology) with the same credit card. At the rate he was purchasing items, he must have equipped a very sophisticated office well provided with many of the premium gadgets around, but no. By the time he left his office, he alone knows where he had placed most of those items.

It looks like Puto had landed on a new career but one where he had to speak continuously against his one-time benefactor and the "rape" charge is just one of his aces in order to survive and live his expensive style. His use of the credit card ended June 20, 2004, however. When he wrote his confession letter on November 21, 2004 to two Ministers-in-charge (MICs) in his desire to be forgiven, he only admitted "kahalayan" (rape and acts of lasciviousness) to only nine of his office mates and pilfering church collections. There was no mention of what he did with the credit card.

In between these months, from July 2004 where he had no more access to the credit card up to November 21, 2004 when he wrote his confession letter and appeal, he was out of cash or source of money as he reflected on his suspension. Despite what was discovered about Puto, the preacher took care of his medication for kidney trouble and gave him money for that, in the hope that Puto could still change. Puto, himself, talked about that in his video testimony that could be viewed in YouTube.

Puto maybe the luckiest man on earth today. He must be the first to be laughing at how eventually his lie about being raped has gotten the whole world's notice, least of all the International Crime Police Organization or Interpol. Puto had victimized some 14 of his subordinates from acts of lasciviousness to rape and yet he has gotten scott-free. The only thing the victims were able to do so far was to tell to the world how he had victimized them in YouTube and describe his penis.

The ace in the card of Puto is the Iglesia ni Cristo (INC), his new-found group when he could no longer be acceptable to Soriano's group. For a long, long time, this could only be the solution to his dreams of one day becoming a minster-in-charge (MIC) which was never realized. At one time, in the hearing of his office mates, he had declared that if he doesn't become an MIC, he may just become an INC.

In Soriano's group, confessions are appreciated and seen as a sign of repentance. In Puto's case, however, he only wanted to remain still in his position by hiding some of his acts. The man who used to take the dictates of the Presiding Minister in a laptop saw himself as Secretary General, a power he abused to insert the names of his enemies in circulars that contained the list of those suspended and excommunicated by Soriano. He never had that position, however, as it was occupied by Luzviminda Cruz, a pioneer and one of most trusted aides of the preacher. Yet, Puto saw this opportunity to use a secret weapon to threaten his rape victims with. Once, Puto met a young man from the construction group walking home one day – dirtied with cement and dust. He ordered him to come with him to his room, but there raped him.

After Puto's appeal to be re-instated to the organization failed, he joined - as he had threatened -the Iglesia ni Cristo. There was a lull here, however. It took him some time to think and connect with those who left the organization for the Iglesia ni Cristo until he finally became one of them. His presence is still felt from time to time in forms of scouting for former brothers to convince them to follow him. He was offering "jobs," just like the one he holds now, and the job was only to speak against Bro. Soriano. This was revealed by a young boy who used to go around looking for some kilo of rice for his poor parents. He had refused the offer of PHP10, 000 a month just to be speaking against the preacher.

In the few years just before he was to be excommunicated, instead of participating in church activities and listening to the preaching, Puto's mind was out somewhere. Eliseo Soriano, the Presiding Minister of the church of God, International, is strict, as far as doctrines are concerned, and on the weekly Thanksgiving days placed on Saturdays, the members dutifully gather to study God's word. At these times, Puto could only be found in vacation spots, mostly in the beaches where he loved to imagine a different life.

In a video testimonial of his friend, Freeman Maynes, he revealed that whenever they traveled far away from the city and nearing the beach, Puto would shout "holocaust," then shamelessly attack one of them that he would undress forcefully and grab the private parts. This was reported by Maynes who eventually was excommunicated, too, for taking advantage of others. Instead of talking about himself, he revealed more about Puto.

Puto could have stayed on still but money is his weakness – including sex. With his nine years stay in the church, he had not internalized the teachings, even as basic as being truly repentant to be forgiven.

Puto's portrait is a showcase of what is sordidly happening in the country. For accommodating an organization that lives its life playing with election-hungry politicians with its bloc-voting practice, and allowing its intervention in so many forms, the country's justice system is expected to be sorely decadent. Already laden with corruption charges as with the Office of the President of the Land, the justice system of the country cannot be expected to be managed well.
While Puto's new church group had filed case after case against Soriano, they could not come up with something worth the Interpol's attention. And yet they were able to have his name in the list of persons to be searched. Could there have been an agreement that it would only be up to posting his name and photograph there? One need not ask if that is a dangerous practice because it is. It is not a secret that the Iglesia ni Cristo had come up with as many cases as they wanted to file against Soriano. It is also not a secret that INC members like Rizalino L. Arrabis, a retired US Navy man based in Guam, have been suggesting in newsites for "police officials of all countries to unite, leash and impound Eliseo Soriano."

The military
Puto saw much of the might of the INC before he joined them. He also knew how much the INC persecuted Bro. Soriano. On February 1, 2002, on a Friday midnight up to the wee hours of the following day, the National Bureau of Investigation (NBI) under Gen. Reynaldo Wycoco (now deceased), raided the Convention Center of the Ang Dating Daan just on a case of libel filed by the Iglesia ni Cristo. The following morning was to be a Thanksgiving Day of the congregation so that many travelers who already were coming in for the day were disfranchised. These included the old orphans and widows of the church orphanage that was placed at the front part for easy access to the Center. Each of them then began to experience health issues from fright and sudden notice. The men came in full combat gear sporting NBI and surrounded the convention center for several hours. In such gatherings, the members could number some 60,000 on the average in the convention center alone.

After Puto left, the raids of the INC increased, this time targeting Abner Martizano, their minister who had joined Soriano's group. Martizano could be seen on TV, revealing INC secrets and one of that was the production of comics depicting Soriano in sodomy. While no authors were named in the malicious comics, these were being directed to be distributed by the INC ministers and at that time Martizano was with the Iglesia ni Cristo.

It brought a second raid that happened on December 20, 2005. The local police of Apalit, Pampanga together with INC military men were well prepared. Just at the first gate, they went directly to the cameras and turned them off like they knew beforehand where they were positioned. Apparently Puto had sold them much information.

Once inside, past the second gate, they directed everyone they saw to line up at the Administration building and confiscated their cell phones and cameras. No one was allowed to call anybody. While they did this, some of them banged on the doors at the Strangers Hotel and kicked them, at the same time shouting at the tenants, asking where people hid Martizano.
Today, the Convention Center is still being "inspected" from time to time by the Mayor of Apalit, Oscar "Jun" Tetangco, one who thanked the INC for his election in big billboards.

The Justice
On October 5, 2005, Otto Macabulos, Asst. Provincial Prosecutor addressed an information to Jesus Manarang, Provincial Prosecutor, Province of Pampanga, that Mr. Soriano is presently facing two counts of rape (no bail recommended) that he filed pending preliminary investigation with the Prosecutor's office in San Fernando. The information said Veridiano claimed that he was sexually abused on May 17, 2000 at around 1:30 in the afternoon and on June 8, 2001 around 3:00 in the afternoon. The information further said it was physically impossible for the accused suspect (Soriano) to carry out the alleged crimes as there are documents for him of his whereabouts.

The hard evidences given for the rape charge (Ra 8353), page 5 Resolution said: 1) On May 17, 2000 at around 1:30 in the afternoon, Soriano went to the Biological Health Center in Malate, Manila to undergo chelation therapy. It took him about 3 hours and on the basis of records, the respondent was treated at the clinic. After the chelation therapy, he went directly to Lipa city, Batangas for a Bible Exposition which started at 7pm to 11pm. Soriano never left the stage all throughout the event.

Both Dr. Jean Marzan and Dr. Frederick d. Franciso of the Biological Center attested that on such date and at that time, and on the basis of their records, the respondent was treated at the clinic.

The information further said that on June 8, 2001, that Veridiano said he was raped for the second instance at about 3 o'clock in the afternoon, Soriano together with Rico Fernandez at 11:30 in the morning went to the Office of one Ma. Evangeline Veliora in a bank located in Bambang, Manila. They then proceeded to meet a certain Aida Briones, an accountant recommended by Veloira as regards the loan they were applying for. Fernandez, Veliora, and Briones each had written an affidavit to affirm that Soriano was with them that day. These affidavits were notarized by Bernardo Cuaresma on October 21, 2005.

The missing document dismissing the case
The rape case was dismissed on January 26, 2006 penned by Alexandro Lopez, Assistant Provincial Prosecutor of Region III, San Fernando, Pampanga as approved by Jesus Y. Manarang, the Provincial Prosecutor. In part, the document says: "The foregoing facts, together with the rift going on between the INC and the ADD, which we cannot deny, only show that the complainant was indisputably ill-motivated from the inception, and these necessarily, without any scintilla of doubt, substantially affect, if not lessen, his credibility as an unperjured affiant. Wherefore, premises having been considered, the undersigned recommends the DISMISSAL, as he hereby DISMISSES, the complaint for rape filed by Daniel Veridiano against Eliseo Soriano docketed herein as I.S. N0. 05-I-2459 and 2460."

Months later, however, Raul Gonzales, Secretary of Justice, on March 21, 2006, directed Regional State Prosecutor Jesus Simbulan to elevate the records of the rape case to his office. The letter said: "Department of Justice. Memorandum to RSP Jesus Simbulan, ORSP, Region III, Subject: Daniel Veridiano vs. Eliseo Soriano for Rape. Date: March 21, 2006. In the interest of justice, you are directed to elevate the records of above-captioned case to my office. For immediate compliance. Raul Gonzalez. Secretary."

In the transmittal letter of the investigating prosecutor Jesus Manarang who first handled the case, he clearly stated that the records contained all 214 pages, including the resolution rendered by him which dismissed the case. However, when Soriano's group requested for the copy of the case from the Department of Justice, it claimed that no such dismissal resolution was part of the case. By that time, Prosecutor Jesus Manarang was replaced by Jesus Simbulan who was ordered by Gonzalez to elevate the records to Gonzalez' office.

No one petitioned for the case to be elevated as no resolution was not yet even filed in the Office of Gonzalez, yet the Secretary of Justice ordered the elevation which is highly irregular. Gonzalez then re-filed this dismissed case in Pampanga as reported by ABS-CBN Online on May 3, 2006. http://www.abs-cbnnews.com/storypage.aspx?StoryId=37521

Missing Supreme Court Reports Annotated (SCRA)
Members of Soriano's group question the way Philippine justice is going: Why is the document dismissing the case missing? Should it be like the missing SCRA where the Iglesia ni Cristo deacons were involved in the killing of 5 Polytechnic University of the Philippines (PUP) students? Why are important documents disappearing from the files of the Supreme Court and that of the Department of Justice when the Iglesia ni Cristo are involved?

In Supreme Court Reports Annotated, Volume 339 dated August 28, 2000, in a decision rendered by Chief Justice Hilario Davide, Jr., on the case "PEOPLE OF THE PHILIPPINES, plaintiff-appellee, vs. JUANITO ABELLA, DIOSDADO GRANADA, BENJAMIN DE GUZMAN, and EDGARDO VALENCIA, accused-appellants", the four accused in these cases, who are deacons of the Iglesia ni Cristo, were declared guilty beyond reasonable doubt on five (5) counts of MURDER. On page 147, it states -
"There, they were mauled, tortured and beaten by appellants, who were deacons of the INC, as well as by their cohorts, using steel tubes, lead pipes, guns and other blunt instruments. Thereafter they were loaded into the van, which forthwith sped out of the compound; and three days later, or on 10 March 1992, the victim's bodies were found floating in Pasig River, showing signs of foul play." The Supreme court at that time was headed by Hilarion Davide, popularly known to be a just man.

ABS-CBN on INC payroll?
Puto's rape claim was published by ABS-CBN Interactive for more than a year. The article was such that only the date was changing. Editors in Soriano's group began to protest that article, question the leadership of this outfit, and the kind of training its people had. This was made through a news posted online and titled, "Is ABS-CBN Interactive a legitimate news outfit?"
This one-story online site went blank for a time. The rape story was not there anymore but only its masthead. It returned with a vengeance, however, with another name - ABS-CBN Online. As though with malice, the rape story was back and stayed while it lasted. Meanwhile, they twisted the name of the complainant they protected to Pedriano from Veridiano. This emboldened INC posters to keep repeating the rape story in many online sites and fighting for Daniel Veridiano, alias Puto.

The rape story was picked up by Wikipedia that placed it as an integral part of the biography of Eliseo Soriano. This led to some church editors tangling with the Wikipedia staff. When Moriori of Wikipedia was chided for making use of a discredited source like ABS-CBN Interactive, his reply was to this effect: "There are many others I can use. I still have other sources." Moriori in the end used Manila Standard as source.

Many times over, the rape story was repeated by news outfits like Soriano was convicted already- an overkill that effectively bared their intentions but mostly what group they were linked to. The aspect of its being dismissed was never mentioned - nor was the intervention of the Secretary of Justice. Despite ABS-CBN's background of the case that it reported the first time, there was no mention that their new reporting concerned a dismissed but re-filed case.
Still the questions remain: Who changed the name of Daniel Veridiano to Daniel Pedriano? Was it Raul Gonzalez, the Secretary of Justice who was highly interested in the case and had it refiled although dismissed? Or was it the ABS-CBN to facilitate their year long reporting, protect somebody but continuously destroy Soriano? In the way they treated the material, was that news for the public or an advertisement paid against Soriano? Who is now considered the complainant of Soriano, a Veridiano or a Pedriano?

With the rate Soriano's enemies are going, one cannot miss a relationship with the phoned-in calls to radio programs. As Soriano is abroad serving his international congregation, one suddenly hears his name mentioned by out-of-topic callers, an obvious fisher for his location: "What do you think happened to that Soriano? Where do you think he went? He was charged of rape, you know." The man on board was heard to shoot back, "Sorry, you are out of topic!"
While Soriano had to exile himself, Soriano's voice could still be heard on radio from his taped programs from 10 o'clock at night to 1 o'clock in the morning over at DZAS and DZRH in "Itanong mo kay Soriano, Biblia ang sasagot" (Ask Soriano, the Bible will answer). To some of the questions asked, he could not avoid telling the truth about the Iglesia ni Cristo. Soriano can also be heard expounding the bible in "ADD by Demand," a program in TOP Channel of UNTV that recently inked partnerships to make telecasts available in America and Canada. Added to that is www.truthcaster.com and his blog in esoriano.wordpress.com. Soriano is being followed by millions because of his great understanding of the scriptures.

Religion
In the website of the US Embassy in Manila on International Religious Freedom Report, the Church of God International, more popularly known as Ang Dating Daan (The Old Path) is named as an offshoot of the Iglesia ni Cristo. It is not so and never was, and the embassy was informed in 2006 then again in 2007, but the information remained the same. On religions matters, it is consistently claimed that "there is no change," implying that all is well with the country despite what the Iglesia ni Cristo, with the blessings of Office of the President, is doing. For example, The Movie and Television Review and Classification Board (MTRCB) under the Office of the President and headed by Ma. Consoliza Laguardia had suspended the program of Ang Dating Daan (ADD or The Old Path) of Soriano many times and at one time on the charges that Soriano uttered "Iglesia ni Manalo" (Church of Manalo) which the complainants said hurts them. However, in Net25's Ang Tamang Daan (ATD), a counterfeit of Soriano's ADD program, the INC ministers as co-anchors spend a lot of time tearing the minister apart as magnanakaw (robber), mangogotong (extortioner), mangagansto (plunderer), yet the MTRCB allows them to continue.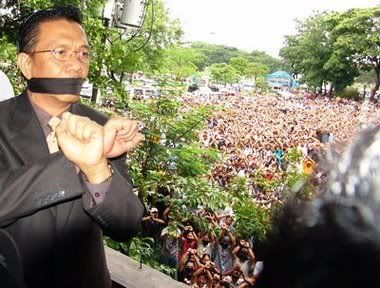 PREACHER ELI SORIANO in a sign of protest to the kind of justice system obtaining in the Philippines. As a broadcaster, he feels his rights are being trampled upon while unscrupulous others are being protected. This photo was taken while he was filing his case with the Commission on Human Rights. Below are his supporters also joining the protest. Soriano has exiled himself since end of 2005 but his preaching is heard 24/7 in several TV stations local and international.
The ATD program was revealed by Romy Español, an INC minister who got affiliated with Soriano's group, as a program that was really put up to destroy Soriano at all costs.

Puto's "victory"
In tandem with these irregularities in the justice system, Veridiano is still lucky as in the Bureau of Immigration, he seems to have church brothers working for him. Soriano was eventually placed on a watch list. In the military, Puto would never lack brothers there. The Iglesia ni Cristo had long been displaying their might against the ADD Convention Center which they began to habitually raid, the first being that one from the NBI under Gen. Reynaldo Wycoco in February 1-2, 2002. This was followed by a time when Bro. Soriano left the Center to hold a Worldwide Bible Exposition at the Araneta Center on December 20, 2005. The Local Police and some later on identified as military members of the INC forced their way into the Convention Center, arrogantly marched into the Strangers' Hotel where they thought Martizano, the minister who left their fold, was billeted.

Puto's victory is capped by the fact that Soriano was able to leave the country, yet the Interpol has his name with them. The Interpol is emphatic, though, that a Red Notice is not an international arrest warrant and that everyone should be assumed innocent until proven guilty. Alfred P. Dalizon, who has strong links with the Iglesia ni Cristo, however, reported on August 17, 2008, in People's Tonight, a tabloid in the country, that Soriano is branded as a fugitive and is on an international arrest. He had it linked to World News Network, Journal Online of the Journal Group of Publications.

This practice of false reporting sets off other media outfits to pick up the report as legitimate report, it was observed. Were it not protested upon by the editors of Soriano's group, Dalizon's story may have created the chain reaction that he seemed to have intended. The editors asked for sanctions on Dalizon by his office, otherwise a protest of bigger dimensions would be forth-coming.

Fresh challenge Soriano reiterated his challenge to debate with Manalo after he had exiled himself towards the end of 2005 - a manifestation that he wanted resolution into all this hounding after him. The immigration officials have him on the watchlist, the Secretary of Justice is highly interested in the mocked-up charge of rape, and although dismissed, had it re-filed. The Interpol has his name on "Search" which an INC supporter banners as an international arrest warrant. To Soriano, all of these have began from the practice of selling and buying of votes.
SORIANO'S CHALLENGE REMAINS: MANALO, LET US DEBATE! Since you have launched the program, "Ang Tamang Daan" on your nationwide TV and radio network.... I have found myself perpetually at the receiving end of vicious smear campaign and character assassination. Characteristic of your designs are trashes and carps from the stinking garbage armory of desperate propagandizing ... like the following:
1) The series of televised and formal endorsement by your supposedly dignified ministers of smut magazines purportedly containing pornographic illustration of my person; 2) The dubious testimonies of the dismissed or suspended workers and members who were lucratively employed in your program purposely to vilify me; 3) The agitation effort directed to our Muslim Filipino brothers to rise up against me by presenting dubious tapes to project that I am personally against them (See images 1,2, 3); 4) Many other morally demeaning and libelous accusations hurled against me. (Manila Times, Mar. 27, 2005)
No conclusion could be made then except that new information on religion in the country has to be made. There is religious persecution in the country – thanks to the penis enlarger that opened a can of secrets from politics, to justice, to immigration, and military connections. More importantly, it has affirmed the role of media that cover these secrets from the eyes of the peering public. For one, why isn't the murder in cold blood of Marcos Mataro, the UNTV host that left the INC and joined the Ang Dating Daan group not solved despite the fact that the reward had been jacked up to PHP 1.2M? Apparently, media from the INC greatly disinforms the public and covers for those involved.

There is more to tell. But the penis enlarger has told much already.
(SOURCE: http://janeabao.newsvine.com/_news/2008/08/27/1790279-portrait-of-the-raped-man-for-whom-the-interpol-would-mobilize)

NOTA BENE: THIS ARTICLE WAS ALREADY REMOVED BY NEWSVINE FOR REASON OR REASONS THAT I AM NOT AWARE OF.